Aug. 27, 2015 – The ASAS Foundation is pleased to announce the establishment of the new Temple Grandin Appreciation Club. The Temple Grandin Appreciation Club is being formed to recognize the contribution of Dr. Temple Grandin to the field of animal research, animal welfare and to the American Society of Animal Science.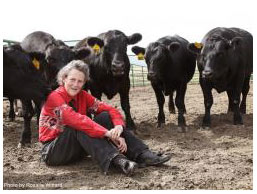 Grandin was born in Boston, Massachusetts. After mentorship from a high school science teacher and an aunt who lived on a ranch in Arizona, Grandin pursued a career as a scientist in the agricultural industry. Diagnosed with autism, Grandin is able to view and understand behavioral characteristics of animals that other people cannot. Because of this, she has changed the way livestock are handled in North America and many countries by designing facilities around the needs of livestock.
Grandin obtained her B.S. at Franklin Pierce College in 1970. She earned her M.S. in Animal Science at Arizona State University in 1975 with her work on the behavior of cattle in various squeeze chutes. In 1989, Grandin received her Ph.D. in Animal Science from the University of Illinois. Currently, she is a Professor at Colorado State University.
At Colorado State, Grandin has published many industry publications, 63 journal articles, book chapters, and technical papers on animal handling. She has written many books, one of which was a New York Times best seller.
Grandin has also received multiple prestigious awards nationally and internationally, some of which include Richard L. Knowlton Award from the Meat Marketing and Technology Magazine, the Industry Advancement Award from the American Meat Institute, the Beef Top 40 industry leaders and the Lifetime Achievement Award from The National Cattlemen's Beef Association. Grandin was also inducted into the Cowgirl Hall of Fame in 2011.
Grandin still speaks with parents and teachers throughout the U.S. about her experiences with autism and is a past member of the board of directors of the Autism Society of America.
The ASAS Foundsation seeks to create a nucleus of funds and investments from which its Board of Directors and its membership may address critical issues facing the profession. To donate to the Temple Grandin Appreciation Club, click here.
To read more about all of the ASAS Foundation Appreciation Clubs and what they fund, click here.