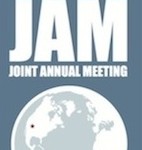 Sept. 21, 2015 – Plans are underway for the 2016 Joint Annual Meeting to kick off with a pre-conference symposium on "Gut Microbiota, Diet, and Health." The symposium will be hosted by ASAS and ASN (American Society for Nutrition).
The goal of the symposium is to provide the latest science regarding the interplay of nutrition and the microbiome by bringing together experts in nutrition science, animal science, microbiology, gastroenterology, neuroscience, and metabolism.
The gastrointestinal microbiome plays a crucial role in metabolic health in humans and animals. The diversity and composition of the gut microbiota is influenced by nutrients and other components of the diet. These microbes, in turn, influence the host's metabolic response to the diet and impact health and disease development.
Topics in this symposium will address: (1) the role of the gut microbiota in nutrition and gut health, (2) the role of the gut microbiota and host energy homeostasis and metabolism, (3) the effects of early antibiotic exposure on host metabolism, (4) dietary oligosaccharides, establishment of the gut microbiota, and gut development, (5) the intestinal microbiota as a modulator of the immune response, (6) impact of gut microbiota on brain and behavior, (7) methane production, novel feed sources, and the rumen microbiome, (8) dietary fiber, the microbiome, and metabolic health, (9) dietary manipulation of the gut microbiome in companion animals, and (10) gut bacteria, animal health, and food safety.
Speakers chosen to discuss these topics are highly-regarded and have made important contributions to our understanding of this area of research.
Register for the 2016 ASAS-ADSA-CSAS-WSASAS Joint Annual Meeting today!
Housing information is also available for the 2016 JAM.