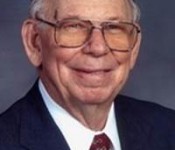 Oct. 1, 2015 – Dr. Virgil Wilford Hays, 86, died on September 28, 2015. It is noted in his obituary that Dr. Hays was "a distinguished scientist, a strong administrator, and a committed leader of and effective spokesperson for the community of animal agriculture throughout the nation and world."
Dr. Hays' obituary offers a glimpse of his distinguished career. He received his B.S. degree from Oklahoma State University, and his Ph.D. in Animal Nutrition from Iowa State University. His professional career began with the Animal Science faculty at Iowa State University. He served as Assistant Director of the Experiment Station at Iowa State University before moving to the University of Kentucky to continue his professional career in swine nutrition research and teaching. He served as Chairman of the Department of Animal Sciences for 16 years, after which he was named the first Scovell Distinguished Professor at the University of Kentucky.
Visitation will be on Friday, October 2, 2015, 4-7 PM, Crestwood Christian Church, Lexington, Ky. Funeral Ceremony will be on Saturday, October 3, 2015, 1 PM, Crestwood Christian Church. Burial will be at the Lexington Cemetery. Donations in lieu of flowers may be made to Crestwood Christian Church, the Salvation Army or Habitat for Humanity.
Dr. Hays' obituary is available here.