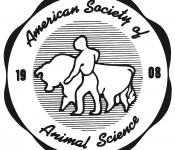 By Dr. David Edwards, Northeast Section President
Oct. 22, 2015 – The ASAS Northeast Section / ADSA Northeast Branch sponsored a symposium, "Bridging the gap between animal protein production and consumers, current and future" at the 2015 Joint Annual Meeting (JAM) this summer in Orlando, Fla.
Symposium speakers challenged the audience to bring the science of animal agriculture to a larger audience in a way that the public can understand. This challenge generated lively discussions during the reception that followed.
Changes to the Northeast activities were discussed at the business meeting which preceded the symposium. These changes include:
A Northeast-sponsored webinar series throughout the year to bring high-quality speakers to more members.
More opportunities for Northeast members to interact at future meetings.
Potential high-tech changes to the graduate student competition that would prepare our students for future discussions of science.
The Northeast sponsored a graduate student oral presentation competition that showcased the exciting research taking place in the Northeast. Dr. Kristen Govani, University of Connecticut, organized the competition and presented awards to Bridget Aylward (1st place, University of Delaware), Amanda Jones (2nd place, University of Connecticut), and Daniela Melendez (3rd place, University of Calgary). Participants received travel support to attend the meeting.
2015-2016 Northeast Officers Introduced
Dr. Ken Griswold (Kemin Animal Nutrition & Health) was recognized for his service as the outgoing President for the Northeast. The current Northeast board is:
President: Dr. David Edwards (FDA)
Vice-President: Dr. Kevin Harvatine (The Pennsylvania State University)
Secretary/Treasurer: Dr. Sarah Reed (University of Connecticut)
Northeast ASAS Board Director: Dr. Thomas Hoagland (University of Connecticut-retired)
Northeast Graduate Director: Sarah Potts (University of Maryland)
The Northeast section looks forward to an exciting year of change. There are opportunities for members to contribute to planning and execution of the webinar series and contribute to updating the graduate student competition and other Northeast events.