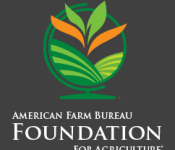 Nov. 9, 2015 – The American Farm Bureau Foundation for Agriculture wants you to join them on Giving Tuesday, December 1, in support of agricultural literacy.
In case you need some incentive, the organization shares several "aha" moments from children who are learning about how their food grows. Here are some examples:
After planting potatoes it was time to harvest: "This is the most amazing thing in the world, I can't believe they actually made potatoes to grow under the ground. This is more fun than hunting Easter eggs!" ~ 3rd grader, SC
This is about a pear tree: "We don't even get pears on this tree just flowers." Then when the baby pears appeared: "Wow! They thought we might cut you down pear tree so you decided to make some pears after all! I can't believe the flowers made pears! That is a miracle!"~ 4th grader, SC
"Ag in the City has made my 8th grade year, the best school year I have had so far.  All the field trips, lessons, and speakers were amazing.  My views on agriculture in the city and the country have opened so much.  I didn't realize how much our state depended on agriculture.  I now see the importance that it brings to our community and how it really affects us as a whole.  I really hope agriculture is being taught across the nation so everyone can also understand the importance of agriculture.  I honestly believe that the more students know about agriculture, the better we will be able to cope with the problems of the future.  An example: the problem of our population growth.  My generation will have to deal with this problem.  If more students learn about agriculture we will be able to come up with new ideas that could solve these problems for future generations." ~8th grader, NE
The American Farm Bureau Foundation for Agriculture outlines ways that you can support ag education and keep the "aha!" moments going:
Take a picture in front of a blackboard that says "Support Ag Literacy" and post it to social media on or around December 1st, using the hashtag #MoreAhas #GivingTuesday.
Share or post your student's "aha!" pictures.
Check out these 7 Super Easy Ways to Educate about Agriculture in Your Area. This list offers suggestions for families, educators, farmers, ranchers and more to get involved in educating about agriculture.