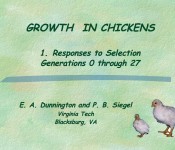 By Dr. Harold Hafs
December 17, 2015 – The Animal Science Image Gallery includes several collections of images created by Ann Dunnington and Paul Siegel, mostly PowerPoint presentations that teach principals of genetics using meat-type chickens as a model.
For example, ASIG #4392 (shown here) and #5206 illustrate selection for growth up to 54 generations. The birds were selected on the basis of body weight at 8 weeks of age, both for small and large size, for comparison with a control unselected population looking for long-term trends over the duration of the experiment. In addition to body weight, several other characteristics were recorded, including age at sexual maturity, feed consumption, and egg weight, in an effort to uncover correlated responses. Each of these files include the logic for the trial, and details for the experimental design, results, analyses, discussion, summary and conclusions as if the reader is a partner in the trial. At each stage of this research, readers are asked questions and led through discussions to aid understanding the research.
In ASIG #5207, Dunnington and Siegel assembled PowerPoint presentations to illustrate the outcomes when selection for body weight was relaxed at intervals during the 54-week selection experiment. The results relate the association between natural selection and artificial selection. Differences in vocalization in chickens selected for low or high body weight at 8 weeks of age is an interesting correlated response outlined in ASIG #5203.
While these files use chickens to illustrate genetics and especially the process of selection, the principles apply widely to other classes of animals. They are designed for use in high school and college genetics and biology courses. Definitions of terms are provided. Questions to stimulate thought and discussion are interspersed throughout, and answers to questions are provided in a separate section to assist those attempting to learn without much help.
To access the images discussed here, type the image # into the "Search Images" box at the Animal Science Image Gallery.