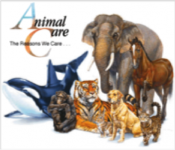 By Dr. Cassie Welch, ASAS Public Policy Committee Member
December 28, 2015 – On July 21, 2015, Congressman Rod Blum of Iowa introduced the Enforcement Transparency Act (ETA) of 2015. If this legislation becomes law, it will require the United States Department of Agriculture (USDA) to publicly release the table used to calculate fines for violations under the Animal Welfare Act (AWA).
Enacted in 1966, the AWA established federal standards for the humane care and treatment of certain warm-blooded animals, specifically those that are exhibited to the public, bred for commercial sale, used in medical research or transported commercially. These standards also apply to facilities using regulated animals, whereby they must provide adequate housing, sanitation, nutrition, water, veterinary care and protection from extreme weather and temperatures.
USDA Animal Care, an office within the Animal and Plant Health Inspection Service (APHIS) agency of the USDA, provides oversight and enforcement of the AWA.
Trained USDA inspectors are located throughout the United States and are classified as veterinary medical officers (VMOs) or Animal Care Inspectors (ACIs). All VMOs are trained veterinarians, while ACIs are educated in the biological sciences and/or have extensive experience in animal care and handling. Routinely, inspectors conduct unannounced visits to all facilities that are licensed/registered under the AWA, using the AWA standards and regulations as a baseline to determine the level of care being provided. If a facility does not meet the federal standards, the facility is cited for items that are not in compliance, and it is the responsibility of the facility to properly address/correct those items within a specific timeframe provided by USDA Animal Care. If non-compliances are not corrected, or if they are of a serious nature, USDA has the option to pursue appropriate enforcement actions, which typically results in the formulation of penalties for violations.
After introduction in July, H.R. 3136 was referred to the House Committee on Agriculture. To date, this legislation has not been advanced to the floor of the House of Representatives for consideration. As the year 2015 ends in a few short days, so does the first year of the 114th Congress. It remains to be seen if this legislation will advance in 2016. To track legislative actions associated with H.R 3136, visit CONGRESS.GOV.