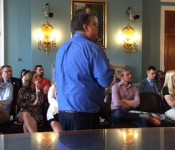 December 28, 2015 – On December 14, ASAS hosted a "Snack and Fact" briefing in the Longworth House Office Building in Washington, D.C. The briefing, attended by more than 50 congressional staffers and others, focused on the topic of "Communicating the Animal Sciences Effectively."
Featured speakers included Dr. Deb Hamernik and Dr. John Parrish. Dr. Hamernik, ASAS President-Elect and Associate Dean of Agricultural Research at the University of Nebraska-Lincoln, discussed why it is so important to communicate animal science to the public. Dr. Parrish, Professor in the Department of Animal Sciences at the University of Wisconsin–Madison, shared technologies and ways to communicate effectively with today's animal science students.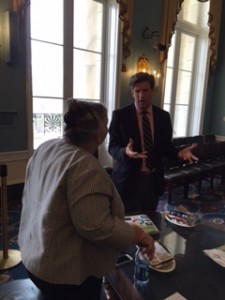 Prior to the briefing, Dr. Hamernik and Dr. Parrish, along with Lowell Randel, ASAS Washington Representative, and Kim Schoonmaker, ASAS Communications Associate, met with representatives from the National Pork Producers Council and the National Cattlemen's Beef Association. In the afternoon, the delegates attended a meeting of the Animal Agriculture Coalition.
The December Snack and Fact briefing provided a snapshot of content from the July 2015 issue of Animal Frontiers, which focuses on the challenges associated with communicating animal science information with the public, news media, policy makers, and students. These stakeholder groups are critical to the future of the livestock and poultry industries, so open and transparent sharing of information is essential.
Top photo: Dr. John Parrish speaks to an audience in the Longworth House Office Building during the December 14 Snack and Fact briefing.
Bottom photo: Dr. Deb Hamernik visits with a staffer following the Snack and Fact briefing.