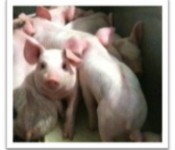 By Samantha Kneeskern
January 4, 2016 – Chocolate is wildly popular in America. In fact, the average American consumes 10 to 12 pounds of chocolate each year (CNBC, 2015)! With the manufacturing of large quantities of chocolate, coproducts are available for livestock feeding. Quality coproducts allow livestock industries to reduce feed costs without sacrificing animal performance.
In the swine industry, whey powder is supplemented to improve nursery piglet growth. Whey powder includes the carbohydrate, lactose, is easily digested, and makes for a good source of energy. However, the cost of lactose and whey powder has increased by 68% in the last 15 years and unfortunately, the availability has concurrently decreased (Guo et al., 2015). Therefore, many companies and producers are looking for an economical alternative for whey.
Chocolate candy feed is a byproduct of milk chocolate and candy production. These products are not accepted for human consumption due to various reasons, like packaging and color. Chocolate candy feed is a cheaper substitute for lactose found in whey powder.
According to researchers at North Carolina State University and Murphy Brown LLC, Chocolate Candy Feed (produced by International Ingredient Corp., St. Louis, MO) is almost half of the cost of whey powder. In a recent study published in the Journal of Animal Science, the scientists wanted to determine the effectiveness of replacing lactose with the alternative carbohydrate source.
One thousand four hundred pigs were fed in a total of three phases before and after weaning. Chocolate Candy Feed replaced up to 45% of the lactose in their diets.
In the early stages of the study, feed intake increased as the amount of Chocolate Candy Feed increased, most likely due to increased palatability of the feed. With increased amounts of Chocolate Candy Feed, piglets also moved onto a different feeding phase faster than piglets that were not supplemented with the coproduct.
Throughout the study, as whey was replaced with Chocolate Candy Feed, there were no adverse effects on growth performance or health of the pigs. "There were no differences in fecal scores between treatment groups, indicating that pigs could handle the carbohydrates from the coproduct," states corresponding author Dr. Kim. In fact, morbidity of pigs was reduced with increasing amounts of the coproduct.
The authors do caution the use of Chocolate Candy Feed in later nursery diets, as weight gain could be impaired when pigs are older.
In conclusion, a chocolate coproduct can replace up to 45% of lactose in nursery diets and can be an economical carbohydrate source.
To read details of the study, published in the November 2015 issue of the Journal of Animal Science, click here.
Works Cited:
Guo, J. Y., C. E. Phillips, M. T. Coffey, and S. W. Kim. 2015. Efficacy of a supplemental candy coproduct as an alternative carbohydrate source to lactose on growth performance of newly weaned pigs in a commercial farm condition. J. Anim. Sci. 93:5304-5312. doi:10.2527/jas2015-9328.
Satioquia-Tan, J. Jul 23, 2015. Americans eat HOW MUCH chocolate? CNBC. <http://www.cnbc.com/2015/07/23/americans-eat-how-much-chocolate.html>.