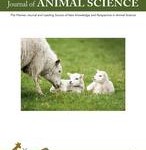 January 4, 2016 – The transition to a new year is often accompanied by a recap of the previous year's favorite songs, movies or top news stories. In keeping with this theme, we present to you some of the favorite Journal of Animal Science articles of 2015, as chosen by our JAS Section Editors.
Dr. James Sartin, Editor-in-Chief, says the Section Editor favorites of 2015 highlight the quality of articles published in the different sections of JAS. Without further ado, here are some of the JAS Section Editor favorites from the year 2015:
Animal Physiology:
In utero heat stress increases postnatal core body temperature in pigs, J. S. Johnson, M. V. Sanz Fernandez, J. T. Seibert, J. W. Ross, M. C. Lucy, T. J. Safranski, T. H. Elsasser, S. Kahl, R. P. Rhoads and L. H. Baumgard. Vol. 93, No. 9, p. 4312-4322.
Renal mechanisms of calcium homeostasis in sheep and goats, G. Herm, A. S. Muscher-Banse, G. Breves, B. Schröder and M. R. Wilkens. Vol. 93, No. 4, p. 1608-1621.
Animal Products:
Protein expression and oxygen consumption rate of early postmortem mitochondria relate to meat tenderness, V. Grabež, M. Kathri, V. Phung, K. M. Moe, E. Slinde, M. Skaugen, K. Saarem and B. Egelandsdal. Vol. 93, No. 4, p. 1967-1979.
Animal Production:
Energy supplementation and herbage allowance effects on daily intake in lactating mares, C. Collas, B. Dumont, R. Delagarde, W. Martin-Rosset and G. Fleurance. Vol. 93, No. 5, p. 2520-2529.
Evaluation of multiple ancillary therapies used in combination with an antimicrobial in newly received high-risk calves treated for bovine respiratory disease, B. K. Wilson, D. L. Step, C. L. Maxwell, J. J. Wagner, C. J. Richards and C. R. Krehbiel. Vol. 93, No. 7, p. 3661-3674.
Animal Nutrition:
Impact of ruminal pH on enteric methane emissions, M. Hünerberg, S. M. McGinn, K. A. Beauchemin, T. Entz, E. K. Okine, O. M. Harstad and T. A. McAllister. Vol. 93, No. 4, p. 1760–1766.
Effects of residual feed intake and dam body weight on replacement heifer intake, efficiency, performance, and metabolic response, R. S. Walker, R. M. Martin and B. Buttrey. Vol. 93, No. 7, p. 3602-3612.
Animal Genetics:
Estimates of genetic parameters for content of boar taint compounds in adipose tissue of intact males at 160 and 220 days of age, R. Rostellato, V. Bonfatti, C. Larzul, J. P. Bidanel and P. Carnier. Vol. 93, No. 9, p.4267-4276.
Animal Behavior:
Group and individual sow behavior is altered in early gestation by space allowance in the days immediately following grouping, E. C. Greenwood, K. J. Plush, W. H. E. J. van Wettere, and P. E. Hughes. Published online December 11, 2015, doi:10.2527.