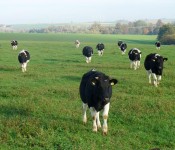 By Samantha Kneeskern
January 11, 2016 – Genomic selection has been implemented worldwide in dairy breeding programs (Please read Genomic selection: A paradigm shift in animal breeding in Taking Stock). Reference populations or large sire calibration groups include bulls with highly reliable breeding values that are genotyped with high-density SNP-chip panels.
Drs. Tong Yin and Sven König from Germany discuss on-farm applications and how to use genomics to predict phenotypes in the most recent issue of Animal Frontiers. They believe that on-farm application of genomic selection should focus on genotyping females, not just bulls. Yin and König list two objectives for breeders:
to improve within-herd selection strategies using low-density 10K SNP-chip panels while utilizing reproduction technologies like embryo transfer, sexed semen, and bull genomic information.
to predict phenotypes and to explain causal mutations using high-density or even whole-genome sequence data.
The two authors review previous literature on improving within-herd selection using genomic information. Using a computer package, SIG-R, they compared six different breeding strategies, from a scenario of conventional breeding (selecting based off of the dam's performance) to a scenario of using embryo transfer on 50% of the genetically best heifers according to their genomic estimated breeding value at 12 months of age.
They found that even at a mid-point scenario, by using sexed semen on 50% of the heifers with the best pedigree, heifers could reach their highest genetic potential per year for the two traits measured (milk yield and longevity) and, furthermore, the generation interval could be cut by more than half. They believe genomic information coupled with reproduction technology is a worthwhile investment and breeders can have great economic gains.
On farm, breeders can use genomic data to identify lethal recessive traits in homozygous form. By using genotyped bull dams and bull sires, the optimum genetic contributions are obtained. Therefore, lethal traits, like negative effects on paternal fertility and stillbirths, can be negated.
Phenotypes can also be predicted by genotypes. Disease traits like mastitis can be predicted based off of genomic data. Research is also being conducted on predicting locomotor startle response and starvation stress resistance in the common fruit fly and in mice, coat color and cell hemoglobin counts. Prediction equations can also be used to determine how animals will fare in humidity and tropical environments.
To predict individual phenotypes in large cow calibration groups, at least 20,000 cows are needed to predict lowly heritable traits. According to the authors, it may be better if genomic information was used from genotyped cows in broad populations instead of solely off of intensively preselected bulls. Currently, novel traits like health, workability, persistency, fertility, fitness, and mobility, are not yet incorporated in official genetic evaluations. In the near future, it could be possible with an increased number of genotyped cows.
Overall, to improve on-farm practicality and to validate SNP data, it is critical to implement cow calibration groups based directly on cow phenotypes. For farm management, the authors write, "A variety of novel traits reflecting resource efficiency (e.g., methane emissions) or product quality (e.g., milk fatty acid composition based on spectral data), while also reflecting the demand of consumers, might be interesting for modern breeding goals."
To read the article in its entirety, click here.
About the photo: Grazing heifers from the research station of University of Kassel, Germany. © 2015 Sven König