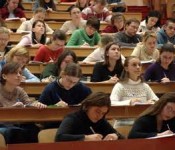 January 21, 2016 – Only 35% of animal science undergraduate students come from an ag background. Learn how to enhance communication with non-ag students during an "urban students" symposium at this year's Joint Annual Meeting in Salt Lake City. Here's a sneak peek at the topics and speakers.
Symposium Title: Urban Students Symposium
Section: Horse Species
Topics and speakers include:
The current animal science student populations – challenges and opportunities, Dr. John Parrish, University of Wisconsin-Madison.
Integration of equine curriculum and activities into animal science, Dr. Carrie Hammer.
Meeting the needs of urban students, hands on learning and unique curriculum, Dr. Kristine Vernon.
Retention of urban students in animal science.  Can strong horse programs help? Dr. Jodi Sterle, Iowa State University
The American Society of Animal Science (ASAS), the American Dairy Science Association® (ADSA®), the Western Section of the American Society of Animal Science (WSASAS), and the Canadian Society of Animal Science (CSAS) will hold the 2016 Joint Annual Meeting (JAM) in Salt Lake City, Utah, July 19-23.
The deadline for abstract submission is March 23, 2016, 11:59 pm (PST).