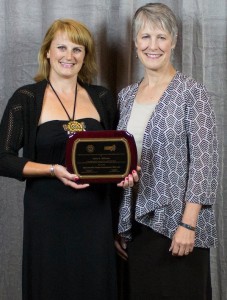 January 25, 2016 – Based on member requests from last year, ASAS has delayed opening nominations for National Awards so that the deadlines fit better with the academic calendar. Therefore, National Awards nominations will open on February 1, 2016 and close on March 7, 2016.
Reviews for these awards occur March 7–18, 2016. The week of March 21-25, 2016, will serve as an extra review week for awards that have ties or too few reviews to determine a clear recipient. Recipients for all awards will be notified by March 28, 2016.
Thank you for your understanding as we try to determine a schedule that best fits the needs of the membership.
Photo: Dr. Carey Williams (left) accepts the Equine Science Award at the ASAS Awards Program in July 2015. She is pictured with Dr. Connie Larson of Zinpro Corporation, the award sponsor.