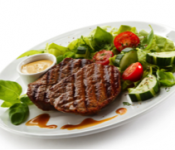 By Dr. Clint Krehbiel, ASAS Public Policy Committee
January 28, 2016 – Congress has passed the Fiscal Year 2016 spending bill, which provides funding to address the challenge of ensuring nutritional security in the context of continued population growth, climate change, diminishing land and water resources, and the need to ensure public and economic health.
In a recent email sent to U.S. Agricultural Experiment Station Directors, Dr. Sonny Ramaswamy, Director of the USDA's National Institute of Food and Agriculture, highlighted how investments continue to catalyze exemplary and relevant research, education, and extension toward the goal of ensuring nutritional security. A few of those highlights included: The Northwest Advanced Renewable Alliance, led by Washington State University; the Food Insecurity Nutrition Incentive Program providing incentives at the point of purchase for Supplemental Nutrition Assistance Program participants to purchase more fruits and vegetables; New Mexico Highlands University's Achieving in Research Math and Science; the multi-institutional Triticeae (Barley & Wheat) Coordinated Agricultural Project; and the International Wheat Yield Partnership Program, established in coordination with partners in the United Kingdom, Australia, Mexico, India, Canada, France, along with USAID, and USDA-ARS. Another success story highlighted by Dr. Ramaswamy included the Beginning Farmers and Ranchers Development Program, which funded seven projects to serve veterans' needs, including projects led by the Farmer Veteran Coalition, Arcadia Food, Kentucky State University, Cornell, and the University of Arkansas.
Surprisingly, Dr. Ramaswamy did not include examples from animal science in his list of NIFA highlights. As a community of scientists, we are very excited about the aforementioned success stories. We are also proud of the contributions that animal scientists are making toward nutritional security. A few examples of NIFA-funded projects in animal science not highlighted by Dr. Ramaswamy include: Improving Nutrient Utilization and Feed Efficiency through Research and Extension to Enhance Pig Industry Sustainability and Competitiveness, led by Iowa State University; Genomic Selection and Herd Management for Improved Feed Efficiency of the Dairy Industry, led by Michigan State University; the University of Missouri-led National Program for Genetic Improvement of Feed Efficiency in Beef Cattle; Integrated Program for Reducing Bovine Respiratory Disease Complex in Beef and Dairy Cattle, led by Texas A&M; and Washington State University's Improving Fertility of Dairy Cattle using Translational Genomics.
According to the Consumer Beef Index (2014), approximately 96% of the world population eats animal protein in some form. As a result of increasing trade globalization, urbanization, and expected growth in the global middle class, a substantial increase in per capita meat, dairy, and fish consumption is expected. Meeting the nutritional needs of an increasing population and its demand for animal products will continue to require a significant investment in research and development. The challenges to be met go well beyond increased agricultural animal productivity. For example, how we anticipate and meet significant changes in climate, improve equitable distribution of animal products, and improve engagement and communication between those engaged in animal agriculture and the public need to be determined. In addition, to achieve nutritional security, research efforts that instill integration of all the components of the food chain will need to be improved. Success can be achieved through inter- and transdisciplinary research collaborations involving both the public and private sectors.
As animal scientists, we look forward to integrating in a systems approach that emphasizes efficiency and quality of animal protein production to provide global nutritional security in a sustainable manner.
Photo: Shutterstock