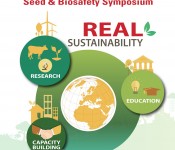 February 4, 2016 – The Global Food Security Consortium (GFSC) and the Seed Science Center at Iowa State University (ISU) will welcome experts from around the world to discuss the components necessary for addressing global food and nutrition security in an upcoming symposium entitled "REAL Sustainability."
The April 13-14 symposium, to be held in the Scheman Building at the Iowa State Center in Ames, Iowa, will offer three sessions on the topics of global food security and agricultural sustainability research; meeting education demands of the agricultural industry; and capacity building through public-private partnerships. Symposium speakers include William Dar, Inanglupa Movement, Inc.; Christie Vilsack, United States Agency for International Development; Jocelyn Brown, United States Department of Agriculture – Foreign Agriculture Service; and Patricia Sheikh, Corporate Council of Africa.
A research poster presentation and competition will be held for undergraduate and graduate students. Research posters from all disciplines related to global food and nutrition security are welcome, and monetary awards will be presented for the top three posters.
For a detailed program agenda, full list of speakers and poster abstract submission information, visit http://register.extension.iastate.edu/2016globalfoods.
As a worldwide initiative centered at ISU, the GFSC develops and promotes interdisciplinary and innovative research, along with educational and engagement programs, to target issues associated with global food and nutrition insecurity. The GFSC is a network of experts, including research scientists, industry leaders and stakeholders, who bring together many different facets of science and use a whole systems approach to examine every step of the food value chain.
For more information regarding GFSC or the upcoming symposium, please contact Cassie Welch at cwelch@iastate.edu.