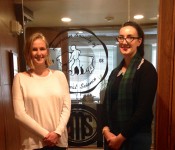 February 8, 2016 – ASAS welcomed two communications interns from Australia this month. Please join us in welcoming Holly Webb and Chloe Mitchell! 
Holly (shown at left in photo) and Chloe (at right in photo) will be working on several communications projects, as well as establishing an electronic newsletter for the membership of the Australian Society of Animal Production (ASAP). Please take a minute to read about their academic backgrounds and plans during their stay in the U.S.
My name is Holly Webb and I will be an intern at ASAS from February to April 2016. I received a scholarship from the American Society of Animal Science (ASAS) in a joint initiative with the Australian Society of Animal Production (ASAP) to work as a communications intern at the ASAS headquarters in Champaign, IL.
I am from Sydney, Australia and completed my undergraduate degree at The University of Sydney. I completed a Bachelor of Animal and Veterinary Bioscience in 2015, graduating with Honours Class 1 after completing an individual research project. I have a range of interests including animal behaviour and welfare, as well as livestock production and wildlife management. I am looking forward to the events ASAS has organised over the next 10 weeks, in particular attending the 2016 Midwest Meeting in Des Moines, IA.
I am Chloe Mitchell from Adelaide, South Australia. I attended the University of Adelaide from 2013, completing my undergraduate degree in 2015, where I graduated with a Bachelor of Animal Science. Companion animals are my major interest, however I also enjoyed microbiology, behaviour and welfare during my studies. After graduation I had planned to continue into postgraduate study with an honours project focusing on poultry, however this plan changed upon learning I had received a scholarship to intern in Champaign, Illinois with the American Society of Animal Science (ASAS). This opportunity was offered to all final year agricultural and animal science students across Australia as a collaboration between ASAS and the Australian Society of Animal Production (ASAP). I will be interning in a communications role for 10 weeks beginning in February. Attending the 2016 Midwest section meeting looks to be a major highlight of the internship, as well as visiting North Dakota State University. I am looking forward to all the experiences offered in this role, especially as it offers the opportunity to travel during my time in the US.