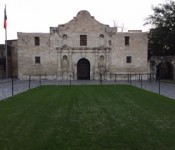 February 8, 2016 – The first of the 2016 ASAS sectional meetings kicked off this weekend in San Antonio, Texas. Yesterday's program at the 2016 ASAS Southern Section Meeting included an Academic Quadrathlon (AQ) competition and a standing-room-only cow-calf symposium.
Ten teams of undergraduates competed in this year's Southern Section AQ. Overall winners were announced yesterday afternoon following the AQ Quiz Bowl Championship.
The cow-calf symposium, hosted by the Southern Agricultural Economics Association and the ASAS Southern Section, focused on "Cow-Calf Production in the Southeastern US: Potential for Impact and Economic Sustainability." The symposium was standing room only, with nearly 115 in attendance.
Today's program at the Southern Section Meeting includes the Bill E. Kunkle Interdisciplinary Beef Symposium, an Antimicrobial Resistance symposium, as well as graduate and undergraduate oral competitions.
The Southern Section Annual Business Meeting and Awards Ceremony take place this evening. The Awards Ceremony will recognize the 2016 recipients of the Southern Section Distinguished Service Award, the Southern Section Extension Award, the Outstanding Young Animal Scientist–Research Award, the Outstanding Young Animal Scientist–Education Award, the Swine Industry Award for Innovation, and the recipient of the ASAS Foundation Fontenot Appreciation Club Travel Award.
The Southern Section meeting is being held in conjunction with the 2016 Southern Association of Agricultural Scientists Annual Meeting.
Symposia and oral sessions conclude on Tues., February 9. For more program details, see the 2016 Southern Section 
Program
 and 
Abstract Book
.
Photo: The Alamo – just a short walk from the Southern Section Meeting at the Hyatt Regency.