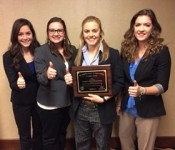 February 8, 2016 – Congratulations to the undergraduate team from Texas A&M University! The team took top honors at the Southern Section Academic Quadrathlon, held in conjunction with the 2016 ASAS Southern Section Annual Meeting in San Antonio, Texas. Winning team members include Sierra Francis, Logan Speck, Erika Wiggs and Madelyn Wilson.
Second place went to Louisiana State University, followed by the University of Arkansas in third place. Hats off to all 10 teams in this year's competition!
Colleges represented at this year's competition included the University of Tennessee, Oklahoma State University, Louisiana State University, Texas A&M University, Auburn University, Tuskegee University, the University of Georgia, Mississippi State University, the University of Arkansas, Texas Tech University, and Berry College.
The teams completed lab practicum events and written exams at Texas A&M University in College Station on Sat., Feb. 6. The competition moved to San Antonio on Sun., Feb. 7, where the teams gave oral presentations and competed in a quiz bowl competition.
Overall winners were announced during the AQ Awards following the Quiz Bowl Championship.