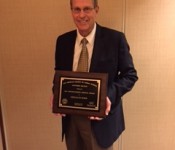 February 9, 2016 – Dr. Gerald W. Horn received the Southern Section Distinguished Service Award this week during the Annual Meeting of the American Society of Animal Science (ASAS) Southern Section, held Feb. 6-9,  in San Antonio, Texas.
Dr. Horn joined the Department of Animal Science at Oklahoma State University in 1975 after 4 years on the faculty at the University of Georgia. Soon after joining OSU, he recognized the unique role of dual-purpose wheat in the southern Great Plains, and has devoted much of his career toward increasing the overall efficiency and profitability of this enterprise.
Dr. Horn has taught 9 different courses to veterinary, graduate or undergraduate students, and has authored/co-authored 113 refereed journal articles and over 500 other scientific reports. He has served as major advisor and/or graduate committee member to 120+ graduate students. His former students are advancing the science and practice of beef cattle nutrition and management and providing leadership in academia, industry and administrative agencies in the U.S., Argentina, Uruguay and Mexico.
Dr. Horn is a Charter Diplomate of the American College of Animal Nutrition, a long-time member of the Oklahoma Cattlemen's Association, and is widely respected by students, colleagues and stakeholders.
Gerald and his wife, Chris, have two grown daughters.
Please join us in honoring Dr. Horn's commitment to the Southern Section.
About the photo: Dr. Gerald Horn received the Southern Section Distinguished Service Award at the 2016 Southern Section Meeting in San Antonio.

Media Contact:
Kim Schoonmaker
American Society of Animal Science
Scientific Communications Associate
217-356-9050/kims@asas.org