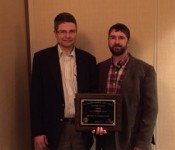 February 9, 2016 – Dr. Jeff Lehmkuhler received the Southern Section Extension Award this week during the Annual Meeting of the American Society of Animal Science (ASAS) Southern Section, held Feb. 6-9,  in San Antonio, Texas. 
Dr. Lehmkuhler grew up in Indiana, received a B.S. from Purdue University and M. S. and Ph. D. from the University of Missouri in ruminant nutrition. He began his career at the University of Wisconsin and joined the faculty at the University of Kentucky in 2008. His responsibilities include nutritional management of the beef herd and backgrounding/stocker management. At the University of Kentucky, Dr. Lehmkuhler has provided science-based, practical information to approximately 13,000 beef producers in over 350 different county groups focusing on producers making more informed decisions.
Dr. Lehmkuhler has developed three novel extension programs, authored 11 refereed journal articles, 12 conference proceedings and invited presentations, and 78 extension publications. He has received over $1.9M in extramural funding. He teaches two undergraduate courses and serves as an officer of the Southern Region ASAS Extension group.
Jeff and wife Gwen have 3 children.
Please join us, and the award sponsor, Boehringer Ingelheim, Vetmedica Division, in honoring Dr. Lehmkuhler's commitment to the Southern Section and Extension programming.
About the photo: Dr. Jeff Lehmkuhler (left), University of Kentucky, accepted the Southern Section Extension Award from Dr. Shane Gadberry, University of Arkansas Cooperative Extension Service, during the Southern Section Awards Ceremony on February 8, 2016, in San Antonio.
Media Contact:
Kim Schoonmaker
American Society of Animal Science
Scientific Communications Associate
217-356-9050/kims@asas.org