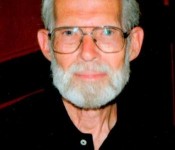 February 11, 2016 – Dr. Burk A. Dehority, 85, of Wooster, Ohio, passed away Tuesday, February 9, 2016.
The following information about Dr. Dehority, a Fellow in the American Society of Animal Science, is excerpted from his obituary:
(Dr. Dehority) was a Professor at The Ohio State University at the Ohio Agricultural Research and Development Center for over 50 years in the Animal Science Department specializing in Rumen Microbiology.
An expert in rumen and gastrointestinal microbiology, Burk had worked with scientists around the world to identify and study the microbes that live in herbivores.  During the course of his career he had described and named 21 new species and had two species named after him.  He authored or co-authored 170 peer-reviewed journal articles, 10 book chapters, and two books.  Burk advised 14 master's degree students and 10 doctoral students while also attracting many postdoctoral and visiting scientists to his lab.  He also served on the editorial board for Applied and Environmental Microbiology.
After earning his B.S. in Chemistry from Blackburn College in 1952 and his M.S. in Biochemistry from the University of Maine in 1954, Burk came to Ohio State to complete his Ph.D. in Agricultural Biochemistry.  After graduating from Ohio State, Burk served as an assistant professor at the University of Connecticut before returning to OSU as an assistant professor at the Ohio Agricultural Experiment Station in 1959.  Burk advanced to associate professor in 1964 and in 1970 he joined the Ohio Agricultural Research and Development Center (OARDC) as a professor.
Burk was a 2008 recipient of the OARDC's Distinguished Senior Faculty Research Award presented at their Annual Research Conference.  He received the Department of Animal Sciences Research Award in 2000 and Ohio State's Gamma Sigma Delta Award in 1978.
Services will be held on Monday, February 15, 2016 in Wooster, Ohio.