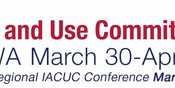 February 15, 2016 – The Public Responsibility in Medicine and Research PRIM&R's 2016 IACUC Conference (IACUC16) is coming up on April 1-2, (with pre-conference programs on March 30) in Bellevue, Wash. This event allows attendees to exchange ideas, discuss best practices, and grapple with the complex ethical issues raised by research with animals.
This year, PRIM&R is pleased to be hosting IACUC16 in conjunction with the Northwest Association for Biomedical Research (NWABR) 2016 Regional IACUC Conference, which will take place on March 31, with a pre-conference site visit program on March 30.
Attendees can register for one or multiple events at one time, and PRIM&R and NWABR members will receive a discounted rate on these offerings.
Conference schedule highlights include plenary sessions, workshops, and networking events on topics ranging from animal well-being and the three R's, protocol review, IACUC administration, program management, and wildlife and field studies.
Confirmed keynote speakers include:
Joseph Garner, DPhil, Associate Professor of Comparative Medicine and, by courtesy, of Psychiatry and Behavioral Sciences, Stanford University Medical Center
Jeffrey S. Mogil, BSc, PhD, E.P. Taylor Professor of Pain Studies; Canada Research Chair in the Genetics of Pain, McGill University
More information about these events is available on the conference website.
Don't miss this opportunity to strengthen and improve your animal care and use program. Regular registration rates end on March 18. Register today!