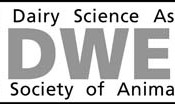 February 15, 2016 – Officer elections for the ASAS Midwest Section are now open. Voting will remain open until March 11, 2016 at noon Central time.
For the 2016 election cycle, the ASAS Midwest Section must fill positions for 1) ASAS Midwest President-Elect, 2) Midwest ADSA/ASAS Director-at-Large and 3) Midwest Section Graduate Director. The nominees for ASAS Midwest President-Elect are Dr. Gretchen Hill and Dr. Julie Walker. The nominees for Midwest ADSA/ASAS Director-at-Large are Dr. Hugo Ramirez and Dr. Tim Safranski. The nominees for the ASAS Graduate Student Director are DeMetris Reed, Jr. and Michaela Trudeau.
To verify ASAS Midwest Section membership, your email address will be required prior to voting.
Midwest registration, housing and program information is available here.