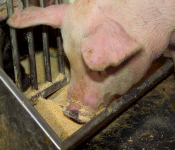 February 18, 2016 – The next World Conference on Innovative Animal Nutrition and Feeding is being planned for 2017, and WIANF is requesting suggestions for topics of special interest in the field of animal nutrition.
The 1st World Conference on Innovative Animal Nutrition and Feeding was held October 15 – 17, 2015, in Budapest, Hungary. The conference attracted 80 attendees from 23 countries, and included 6 keynote lectures, 17 oral presentations and 22 poster presentations covering the following topics in animal nutrition and feeding:
Impacts of climate change on animal nutrition and animal feeding
Mycotoxins in grains and animal feeds
New generations of feed additives
Alternative protein and energy sources in animal nutrition
Free communications (further topics related to innovative animal nutrition)
Information from the 2015 conference is available online, including a PDF version of the book of abstracts.
If you have any suggestions regarding topics for the upcoming 2017 WIANF conference, please contact WIANF at wianf-hu@akademiai.hu.