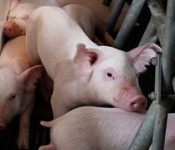 By Chloe Mitchell, ASAP/ASAS Intern
February 22, 2016 – The Kansas State Veterinary Diagnostic Laboratory has recently published the first identified and characterized cases of porcine parainfluenza virus 1 (PPIV1) in U.S. pigs. Prior to this, the virus had only been seen in Asia.
The laboratory received samples from across the U.S. from pigs showing respiratory disease symptoms. Researchers developed PCR and diagnostic assays specifically for the porcine parainfluenza virus 1 once the samples tested negative for the usual agents causing respiratory disease, such as influenza and porcine reproductive and respiratory syndrome virus. They were further surprised to discover the extent of genetic variability of the parainfluenza virus in the samples they collected.
Of the 300 random nasal, oral and lung samples, six percent were positive for the virus. Other findings from the study highlighted how the virus replicates in the upper respiratory tract, and a serology test for exposure to the virus antibodies returned a positive result in 50 to 60 percent of samples. This indicates that the virus has been in the U.S. for some time and is not isolated to a certain area or areas as samples came from across many states.
The laboratory recognizes that the parainfluenza virus is likely to cause mild respiratory disease in pigs and may have economic significance, so research into developing a vaccine may be undertaken in the future.
Access the journal article here.