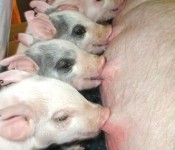 February 25, 2016 – The Gary Allee Symposium will be held the morning of March 14 during the 2016 Midwest Meeting in Des Moines, Iowa. The symposium is sponsored by the ASAS Foundation's Gary Allee Appreciation Club. The symposium will focus on changing consumer and customer demands, and the opportunities that this presents for nutritionists in the pork industry.
Presentations are entitled:
Challenges of shifting consumer demand in the pork processing industry, by Collette Kaster, Smithfield Foods, Kansas City, MO
Electronic sow feeding (ESF): The lemonade of pen gestation, by Thomas Parsons, Department of Clinical Studies, School of Veterinary Medicine, University of Pennsylvania, Kenneth Square, PA
Crate-free sow housing and electronic feeding systems – a value proposition for improved sow nutrition, by Omarh Mendoza and Aaron Gaines, The Maschhoffs, LLC, Carlyle, IL
Exploring connections between metabolic profiles, stress responses and immune function, by Jeffery Carroll, Nicole Burdick Sanchez and Paul Broadway, USDA-ARS, Livestock Issues Research Unit, Lubbock, TX
Production specific marketing programs: What do they mean for nutritionists and how do we adapt? by Mark Bertram, First Choice Livestock, Urbandale, IA
Speakers will be followed by a panel discussion and concluding remarks.
The symposium chair will be Dustin Kendall, Prestage Farms, Inc.
Visit the 2016 Midwestern Section Meeting website.
Photo from Animal Science Image Gallery; courtesy of National Pork Board