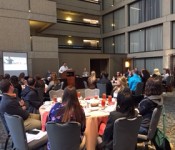 By Southern Section Graduate Student Representatives
February 25, 2016 – The ASAS Southern Section Graduate Student Lunch and Learn took place on February 9, 2016 in San Antonio, TX. Both undergraduate and graduate students representing 12 schools attended the Lunch and Learn. Institutions included Auburn University, Louisiana State University, Murray State University, Stephen F. Austin State University, Sul Ross State University, Tennessee State University, Texas A&M University, University of Arkansas, University of Florida, University of Georgia, University of Tennessee, and West Virginia University.
This year's theme was "Branding Yourself." Upon arrival to the event, students were randomly assigned table seating to allow them to network and build connections with students from different universities. The first speaker was Dr. Scott Willard, from Mississippi State University. Dr. Willard talked about the importance of "Initiating Your Brand." He discussed the benefits of networking and getting involved in undergraduate and graduate school.
The second speaker was Dr. Michael Looper, from the University of Arkansas. The theme of Dr. Looper's presentation was "Building Your Brand." Dr. Looper gave students advice about how to design a resume/CV, the importance of an elevator speech, and the significance of taking the initiative to learn from other disciplines within animal science.
Lastly, Dr. Thomas Perkins, from the International Brangus Breeders Association, discussed the topic of "Selling Your Brand." Dr. Perkins gave the students advice on how to prepare and dress for an interview, and how to conduct themselves during the interview process. This year's Graduate Student Lunch and Learn was a great success. Thank you to those who attended and be on the lookout for next year's Lunch and Learn topic!
For more information about the Graduate Student Lunch and Learn contact: Elizabeth Backes (ebackes@uark.edu), Brittni Littlejohn (aggieino9@tamu.edu) or Sierra Lockwood (slockwo1@vols.utk.edu).