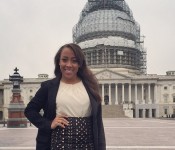 February 29, 2016 – Jamee Bell, chosen to be one of this year's ASAS science policy interns, began her internship earlier this month in Washington D.C. Jamee reflects on her first couple weeks as a science policy intern. 
By Jamee Bell, 2016 ASAS Science Policy Intern
As I arrived at the Rayburn House Office Building for the first time, snow on the ground and in the trees, I almost could not suppress my excitement. Though it was not the Capitol building, walking down the hall (after getting slightly lost) I passed many of my Congressman's colleagues' offices in anticipation of finally arriving at 2430. The tall wooden doors, some opened and reflecting the personality of that particular Congressman, were alluring. Finally, arriving at my new office, I was greeted by another kind and enthusiastic intern. My first task: to find the ID badge office and have my Intern badge made — in the Cannon building — an entire building away by tunnels. I was not entirely sure that I would not end up all the way at the White House, but I found my way there and back like a pro. As I returned to the office, I was introduced to the Communications Director, the Legislative Director, the Chief of Staff, as well as the Navy Congressional Fellow. Soon after, the real work began. Not even five minutes after sitting at my desk, my phone rang! The phone must be answered on the first ring and as I scrambled through my intern folder to find how to greet our caller, the phone rang and rang—until someone from the back of the office picked it up. Needless to say, I was certain that this was it for me. Thankfully, I did not get kicked to the curb on my first day.
As the day progressed, I mastered taking phone calls and leaving memos, recording constituent mail and logging voicemails. My cohort and I also prepared 499 constituent letters from the Congressman to his constituents.
Although these tasks may be considered mundane, I enjoyed them. I enjoyed learning new things about the functionality of a Congressional office first hand and contributing to the Congressman's effort of serving his constituency.
Now, approaching my third week, I have become much more familiar with this union of buildings and am able to answer the phone like I've worked in an office my entire life. I have been tasked with various assignments from minor research on executive orders, to crop insurance discussions with our Legislative Assistant. I have even been able to attend a committee meeting where I was able to learn about the Ports-to-Plains Alliance. The Ports-to-Plains Alliance is an organization whose mission is to advocate for a robust international transportation infrastructure to promote economic security and prosperity throughout North America's energy and agricultural heartland, including Mexico and Canada. I have given tours of the Capitol and have had a wide range of conversations with constituents. Though I have learned much in two weeks, there is much more that can be learned and I look forward to it!
The 2016 ASAS Science Policy Internship is supported by the ASAS Foundation through the Appreciation Clubs for Bob Zimbelman, Harold Hafs, Barb Glenn, Jack Britt, and Louis Boyd.
Meet all of this year's D.C. interns here.