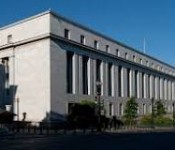 By Chloe Mitchell and Holly Webb, ASAS/ASAP Interns
Jamee Bell
Jamee Bell is a Bachelor of Science student at Tarleton State University, Stephenville, Texas, majoring in Agricultural Services and Development and minoring in Political Science. Showing goats, cattle and poultry as part of a high school agri-science program sparked her passion for agriculture. Jamee initially intended to become a high school educator, but showed a keen interest in policy development after taking a government class. Jamee began her internship this month in the office of Congressman Mike Conaway. Read more about her first couple weeks in Congressman Conaway's office. Following the internship, Jamee hopes to pursue a Masters of Public Service and Administration, concentrating on public policy analysis.
Alexandra Cantrell
Alexandra (Ali) Cantrell is a student at Texas A&M University, College Station. Alexandra's family's ranching operation has been able to benefit from the knowledge she has obtained from taking Animal Science courses, including studying abroad in England and Ireland. In England and Ireland, Alexandra worked with farmers to experience the role of agriculture in the United Kingdom and studied the impact of agricultural relationships between Europe and the United States. She is pursuing a Bachelor of Science in Animal Science and aspires to pursue a career in agricultural policy.
Morgan Jones
Morgan Jones is a Bachelor of Science student at the University of Minnesota-Twin Cities. She is majoring in Animal Science/Pre-Vet and minoring in Political Science. After completing her bachelor's degree, Morgan hopes to attend the University of Minnesota Veterinary School to become a Doctor of Veterinary Medicine and also obtain a Masters of Public Health. Morgan hopes to use the knowledge obtained from her time in Washington, D.C. to pursue a career in veterinary medicine, making changes to animal science and public health policy.
Olivia Woods
Olivia Woods attends Oregon State University and is completing a Bachelor of Science, Animal Science with minors in Spanish and Public Health. Olivia aims to incorporate her background and passion for agriculture with knowledge obtained about the policy making process in D.C. After graduation, she hopes to pursue a career working with producers to develop agricultural methods that benefit both producers and society. Olivia looks forward to gaining a greater insight into the policy making process.
Photo: Rayburn House Office Building in Washington D.C.