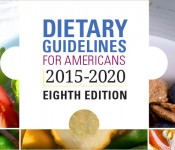 By Dr. Teresa Davis, ASAS Public Policy Committee
February 29, 2016 – The 2015-2020 Dietary Guidelines for Americans have been released by the U.S. Departments of Agriculture (USDA) and Health and Human Services (HHS). The new guidelines emphasize a healthy eating pattern that provides nutrient-dense foods, a caloric intake to support a healthy body weight, and a diet that promotes health and reduces the risk of chronic disease.
The Dietary Guidelines were first issued in 1980 and have been updated every 5 years. In addition to providing guidance to health care professionals and consumers on healthy eating, the guidelines set nutrition standards for the school lunch program and food assistance programs such as the Special Supplemental Nutrition Program for Women, Infants, and Children. An external Dietary Guidelines Advisory Committee, a 15-member panel of experts in the fields of nutrition, health, and medicine, submitted their report to the USDA and HHS last year. In addition to the advisory report, the USDA and HHS obtained input from federal medical and nutrition experts as well as the public before issuing the 2015-2020 Dietary Guidelines.
According to the new 2015 Dietary Guidelines for Americans, a healthy eating pattern includes a variety of vegetables (from all subgroups), fruits (especially whole fruits), grains (at least half of which should be whole grains), fat-free or low-fat dairy (including milk, yogurt, and cheese), a variety of protein foods (including seafood, lean meats, poultry, eggs, legumes, nuts, seeds, and soy products), and oils.
The new guidelines recommend limiting the amount of added sugars in our diet to no more than 10% of caloric intake. For the average consumer, this is equivalent to 12 teaspoons of sugar a day, which is just slightly more than the 10 teaspoons of sugar found in a can of a sugar-sweetened beverage. Recent data indicate that more than 13% of total calories consumed by Americans are added sugars which provide added calories without essential nutrients. Sugars contained in fruits and milk are not considered added sugars.
The previous 2010 Dietary Guidelines limited dietary cholesterol to 300 mg a day, or about two small eggs, but this is no longer included in the 2015 Dietary Guidelines. Recent research suggests that dietary cholesterol has relatively little effect on blood cholesterol levels.
The new Dietary Guidelines does not suggest restricting total fat, but does recommend limiting the intake of saturated fats to less than 10% of total calories per day. In support of this recommendation, evidence is cited that replacing saturated fats with unsaturated fats reduces the risk of cardiovascular disease. The new Dietary Guidelines also specify that consumption of trans fats should be limited.
Another key recommendation is to limit sodium intake to less than 2,300 mg per day. The average sodium intake in the U.S. is 3,440 mg per day and many experts, including the Institute of Medicine and the American Heart Association, recommend a reduction in sodium intake.
If alcohol is consumed, the Guidelines recommend no more than one drink per day for women and two drinks per day for men. Daily consumption of up to five cups of coffee (or up to 400 mg of caffeine per day) is considered not only safe but protective against some chronic disease.
Although the consumption of less red and processed meats and more plant-based foods was recommended by the Dietary Guidelines Advisory Committee as a means of achieving a more environmentally-sustainable diet, this advice was dropped from the final Dietary Guidelines. As in previous years, the 2015 Dietary Guidelines include lean meat as a part of a healthful diet.