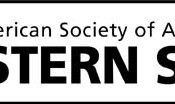 Western Section Graduate students: Nominations are due March 2, 2016 for the Western Section Graduate Student Director.
BENEFITS OF THIS POSITION: 
• Powerful networking experience.
• Build leadership skills and opportunities.
• Develop prestige, as you will serve on the WSASAS Executive Board
and the Advising and Coordinating Committee.
• Travel and expenses to Western Section meetings are covered.
• Provide a voice for fellow graduate students and peers.
TIME COMMITMENT AND RESPONSIBILITIES: 
This is a 2-year appointment that will require 5 – 20 hours per month
(time will vary depending upon the time of the year).
Responsibilities will include: 
• Plan and implement the Graduate Student Lunch and Learn.
• Organize the Young Scholars Award Symposium.
• Create networking opportunities through organizing the Graduate Student Mixer.
• Initiate communication and discussion forums for Western Section graduate students.
• Post event and career information on the ASAS Graduate BULLetin.
• Serve and vote on meeting issues presented during Executive Board meetings.
HOW TO NOMINATE:
Please send your nominations to Dr. James Berardinelli (jgb@montana.edu)
by Wenesday, March 2, 2016.

QUESTIONS?
For questions about this amazing opportunity please contact Kelsey Quinn (kquinn@nmsu.edu)