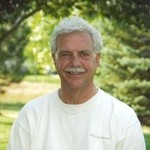 March 3, 2016 – Dr. William "Bill" Wailes, Jr., former head of the Department of Animal Sciences at Colorado State University, passed away on February 26, 2016, from a rare and devastating prion disease. An obituary for Dr. Wailes is provided here. 
William "Bill" R. Wailes, Jr., 69, of Fort Collins went to be with his Heavenly Father on Friday, February 26, 2016, from a rare and devastating prion disease.
Bill was born on December 6, 1946 to William R. and Virginia (Elam) Wailes where he was raised on a dairy farm with his seven siblings in Johnstown. Bill graduated from Roosevelt High School in the Class of 1965 where he excelled in sports. Through 4-H, Bill developed a knowledge and a love for working with dairy cows. He graduated from Colorado State University in 1969, and then shortly after that, he joined the Marine Corps, attending Officer Candidate School. Bill became a Naval Flight Officer serving as Radar Intercept Officer on F-4 Phantom Jets. Upon returning from the service, Bill returned to Colorado State University managing the Dairy, and then he became the Extension Dairy Specialist. Throughout his tenure at CSU, he had a passion for coaching the Dairy Judging Team. Moving up, Bill became Department Head of Animal Sciences. He worked for over 30 years as an ambassador, representing CSU, the dairy industry and animal agriculture where he touched and influenced countless young lives. 
Bill was a member of a number of agricultural organizations as well as Redeemer Lutheran Church of Fort Collins. He was past president of the Colorado Livestock Association. Awards and honors he received include the following; 2011 Colorado Agriculture Hall of Fame Inductee, 2011 Colorado State University Meats Judging "Rams Legacy Award", 2008 Colorado State University Alumni Association Jim and Nadine Henry Award, and 2008 Colorado Livestock Association Top Choice Award. He was recently nominated for the ADSA DeLaval Dairy Extension Award. Bill's family received a flag which was flown over the U.S. Capitol on February 24, 2016, in his honor. Bill was an avid CSU fan and he enjoyed many activities. The most important was attending his grandchildren's sporting events and activities. 
Bill is survived by his wife, Elaine; daughters, Heather Garcia (fiancé Blake Blewitt), Hollie (Lawrence) Hollier, Heidi (Scott) Elmore; step-daughters, Tamie (Mike) Goss and Debie (Scot) Dutcher; 14 grandchildren, Nathanael, Lindsay and Lucas Garcia, Ayanna and Kyla Hollier, Kate and Sarah Elmore, Kayd, Taryn, Slayter, Coltyr and Syree Goss, Will, Denim and Kinsley Dutcher; his mother, Virginia Morris; siblings, Linda (Jim) Young, Diana (Joe) Parker, Shirlee (John) Stevenson, Eric Wailes (Michael Hollomon), Marc (Janel) Wailes, Glen (Charla) Huwa, and Gregg Wailes as well as by numerous nieces and nephews and great-nieces and nephews; former wives, Candi Hays-Winckel and Gretchen Wheeler, his in-laws, Roger Anderson, Lee (Sue) Anderson, and Joyce (Ken) Lind. 
He was preceded in death by his father, William Wailes, his sister, Debbie Huwa, step-son, Jason Wheeler, step-father, Gene Morris and mother-in-law, Marie Anderson.
Services will be held at 10:30 a.m. Monday, March 7 at Redeemer Lutheran Church, 7755 Greenstone Trail, Fort Collins, Colorado. A reception will follow the service.
In lieu of flowers, memorials may be made to the "Colorado State University Foundation for the William R. Wailes, Jr. Animal Science Scholarship" in care of Adamson Funeral & Cremation Services, 2000 47th Ave., Greeley, CO 80634. Friends may leave condolences at adamsonchapels.com.