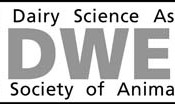 March 3, 2016 – The 2016 Midwestern Section meeting in Des Moines, Iowa, will include a symposium focused on the topics of animal behavior, housing and well-being. The symposium will take place on Tuesday, March 15.
Part I (held during the morning) will focus on solutions to challenges in animal well-being. Presentations will include:
(1) "The role of breeding in positive welfare change," by Simon Turner, Richard D'Eath, Cathy Dwyer, Rainer Roehe, Joanne Conington, and Suzanne Desire, SRUC, Edinburgh, United Kingdom
(2) "Implementing animal well-being technologies, U.S. producer perspective," by Ashley DeDecker, Smithfield Hog Production Division
(3) "Engineering solutions to address challenges to animal well-being," by Angela Green, University of Illinois at Urbana-Champaign
(4) "Six questions for veterinarians," by John Deen, Department of Veterinary Population Medicine, University of Minnesota
Part II of the symposium will be held during the afternoon. Presentations include:
(1) "Opportunities for monitoring and improving animal welfare using precision dairy monitoring technologies," by Jeffrey Bewley, University of Kentucky
(2) "Improving welfare, health and productivity in pigs by optimizing adaptation," by J. Elizabeth Bolhuis and Bas Kemp, Adaptation Physiology Group, Wageningen University.
Visit the 2016 Midwestern Section Meeting website.