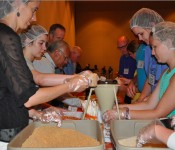 March 3, 2016 – Exciting news! ASAS recently learned that the Super Service Challenge has matched $7,500 of our original $30,000 donation to the Hunger Fight nonprofit organization, further helping Hunger Fight continue its mission of helping families in need.
During last year's Joint Annual Meeting in Orlando, Fla., ASAS teamed up with Hunger Fight to package 100,000 meals for hungry children and families in northern Florida. The meal-packaging event, as well as texting campaigns during our 2015 sectional meetings, resulted in a donation of $30,000 to the nonprofit!
Thank you to our membership, as well as your families and friends, for supporting this project with your time and donations! We also thank our industry partners, the American Meat Science Association (AMSA), the National Cattlemen's Beef Association (NCBA), and the National Pork Board (NPB), who gave generously in support of this project.