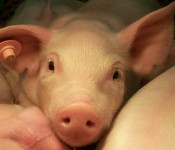 March 3, 2016 – The Midwestern Section of the American Society of Animal Science will host a symposium on Tuesday, March 15 during the 2016 Midwest Section Meeting. The symposium will focus on antibiotic replacement in pork production.
Speakers will present the following titles during the symposium:
(1) What is 'gut health' and how do you quantify/measure it?
(2) New probiotic Bacillus strain improving gut health in piglets
(3) Use of dietary carbohydrates as prebiotic in swine diets
(4) Impact of different high fiber diets on intestinal cell proliferation and differentiation in finishing pigs
(5) Effects of dietary supplementation of phytobiotics on growth performance and health status of growing-finishing pigs
(6) Lysozyme as an alternative to antibiotics in swine feed
(7) Alternatives to antibiotics: biotechnological approach to deliver recombinant bioactive proteins
Visit the 2016 Midwest Section Meeting website.