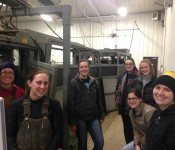 By Chloe Mitchell and Holly Webb, ASAS/ASAP communications interns
March 10, 2016 – ASAS organized a trip for us to Fargo, North Dakota, to visit the animal science facilities at North Dakota State University Campus. Many thanks to Kim Vonnahme for graciously hosting us and organizing our activities at NDSU.
We arrived in Fargo and were taken on a tour of the NDSU Beef Cattle Research Complex (BCRC). Here we spoke with grad students conducting ultrasounds on pregnant cows, examining uterine and mammary blood flow. We also met with Trent Gilbery, animal care specialist, who took us to the feedmill and spoke about the different diets currently being used for BCRC research. After the BCRC, we returned to the main campus where Sheri Dorsam (histology and bioassay coordinator) gave us a tour of the physiology laboratories, before meeting with Kim Vonnahme.
The following morning, we started the day with Kim at the dairy unit before being shown the Animal Nutrition and Physiology Centre (ANPC). The ANPC is an impressive facility that caters for multiple research projects across many species, allowing a controlled environment. We then sat in on a lecture given by Kim on reproductive physiology. Over lunch, numerous animal science graduate students spoke to us about their research projects and future plans. Carrie Hammer then hosted us at the university's equine center, which can house approximately 250 horses and has an indoor arena so students can work with the horses throughout the winter months. We observed a colt training class before finishing the day at the BCRC.
On day 3 we met with multiple faculty members who spoke with us about their research and teaching areas. We sat in on a nutrition exam given by Marc Bauer to junior students, as well as a breeding and genetics lecture with Lauren Hanna. Graduate student and ASAS National Graduate Director Kyle McLean then gave us a tour of the nutrition labs and spoke with us about his research in bovine reproduction. A seminar was given by Aykut Gram (University of Zurich) on endocrine control of canine reproduction, which was attended by grad students and faculty members. Following this, we spoke with Loren Baranko, intern coordinator, about our own internship as well as the ones she coordinates for NDSU students, and Alison Ward, assistant professor, about her studies in nutritional epigenetics. We also met with Eric Berg, who showed us the NDSU meat science facilities. The meat science lab is an integrated learning facility, incorporating practical experience and meat science theory. To finish the day, we spoke with Kelli Armbruster, from the NDSU agricultural communications team. The morning before returning to Champaign, we met with Anna Grazul-Bilska, reproductive physiologist, who showed us around the reproductive technology labs.
Thank you again to all faculty members and graduate students for taking the time to meet with us, and to ASAS for organizing the trip.