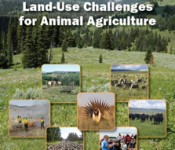 March 14, 2016 – The next "Snack and Fact" briefing hosted by ASAS is scheduled for Wednesday, March 16, 2016 in Washington, D.C. The briefing will focus on the topic of "Land-Use Challenges for Animal Agriculture," which is the subject of the October 2015 issue of Animal Frontiers.
Please make plans to join us on March 16, 10:00 to 10:50 a.m. (Eastern) at 1300 Longworth House Office Building, Washington, D.C.
Dr. Deb Hamernik, University of Nebraska, and ASAS Public Policy Committee representative, will provide an introduction and goals of the briefing. Dr. Doug Tolleson, associate extension rangeland specialist and research scientist at the University of Arizona, will follow with a discussion on land use.