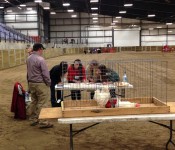 Mon., March 14, 2016 – Fifteen Academic Quadrathlon teams gathered on the campus of Iowa State University yesterday for the start of the Midwest AQ competition.
The teams of undergraduate students rotated through lab practicum stations, testing their skills on a wide range of animal science topics. Teams also gave 8- to 12-minute oral presentations in front of a panel of judges. Teams had one hour to research and prepare for a presentation on either "alternatives to antibiotic use in livestock production," "water use in livestock production" or "consumer influence on the animal product supply chain."
AQ activities continue today at the 2016 Midwest Meeting in Des Moines, beginning with written exams and quiz bowl preliminary rounds in the morning and culminating with the final AQ quiz bowl competition and awards presentation in the evening.
A special thanks goes out to Agri-King, the ASAS Foundation and Iowa State University for supporting the Midwest AQ competition.