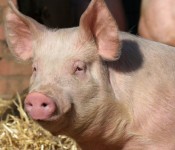 By Holly Webb, ASAS/ASAP communications intern
On March 14, the Gary Allee Symposium was held at the 2016 Midwest Section Meeting. This year the symposium was entitled "Changing consumer/customer demands, opportunities for nutritionists." It was sponsored by the ASAS Foundation's Gary Allee Appreciation Club.
The symposium chair, Dustin Kendall, began by welcoming over 500 people present and introduced the first speaker, Collette Kaster. The invited presentation entitled, "Challenges of shifting consumer demand in the pork processing industry," addressed several challenges that the pork industry faces in regard to changing consumer demands. As an example, Kaster focused on the wants and demands of the customer and consumer, addressing influential concepts such as "all natural" or "fed a vegetarian diet" in swine production. She explored the expected integrity of production, product labeling, antibiotics and adding value to pork products.
Dr. Thomas Parsons was the next invited speaker, presenting "Electronic sow feeding (ESF): The lemonade of pen gestation." Dr. Parsons detailed the advantages and potential opportunities associated with an alternative to gestation stalls: Electronic sow feeding (ESF). Parsons said that it is "the only crate alternative with upside potential."
The presentation addressed the applicability of ESF in commercial production, the upside potential of ESF on productivity and nutrition and how to realize these opportunities in the feeding system. Some examples of the upside potential of ESF include the ability to individualize animal nutrition, minimize food utilization, provide thermoregulation and improve management systems.
The third presenter, Dr. Omarh Mendoza spoke on "Crate-free sow housing and electronic feeding systems – a value proposition for improved sow nutrition." Mendoza discussed the challenges and opportunities as the swine industry continues to understand how to improve sow and litter performance in group-housed sows, namely ESF.
Dr. Jeffery Carroll was the next speaker, presenting "Exploring connections between metabolic profiles, stress responses and immune function." Carroll began with introducing four potential variations in stress and metabolic responses in animals: natural variation, management influences, environmental influences and prenatal influences. He emphasized that significant variations exist within livestock populations in regard to stress regulation, metabolic responses, and overall immunity. However, the similarities that exist among populations, such as sexually dimorphic responses and dietary influences can aid in the development of strategies to effectively manage livestock.
Dr. Mark Bertram was the final speaker in the symposium with "Production specific marketing programs: What do they mean for nutritionists and how do we adapt?" Bertram evaluated production specific marketing programs, why they exist, the issues they raise and potential responses for nutritionists. Although these programs raise issues for swine producers and production, Bertram emphasized that the demands of the public still have to be understood and proposed production alternatives that need to be evaluated to weigh potential production losses and cost increases against the value generated by accessing the niche market.
Abstracts from this symposium can be found in the 2016 Midwest Abstracts.
The Gary Allee Symposium is held in honor of Gary Allee, a retired professor of swine nutrition at the University of Missouri, who devoted his career to mentoring graduate students and improving nutrition and management in the swine industry.