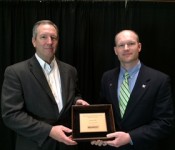 March 16, 2016 –  Dr. Casey Neill, Pipestone Veterinary Services, is the recipient of the Outstanding Early Career Agribusiness Award, presented during the 2016 ASAS Midwest Section/ADSA Midwest Branch Joint Meeting in Des Moines, Iowa.
Dr. Neill grew up on a diversified farming operation by Cummings, KS. He graduated from Kansas State University in 2004 with a B.S. degree in Animal Science and in 2005 with his M.S. in Swine Nutrition. After completing his M.S., he joined Christensen Farms in Sleepy Eye, MN as a Research Coordinator. In this position he provided daily oversight to their reach program and provided leadership to study design and developing new research.
In 2007, Dr. Neill began employment for PIC as a Technical Service Nutritionist where he formulated diets for 174,000 sows in commercial production around the world, was a core member of their nutritional research team, and was the primary author for the PIC Nutrition Guides in 2008 and 2011. In 2013, Casey was hired by the Pipestone System as their first company Nutritionist. In his current role, he formulates diets for 230,000 sows in 6 states and wean-to-finish diets for 1.5 million pigs.
Dr. Neill and his wife Shanna have a son Ryan.
The Outstanding Early Career Agribusiness Award is sponsored by BASF.
Photo: Casey Neill (right) accepts the Outstanding Early Career Agribusiness Award from Dave Golz, BASF.
Media contact: kims@asas.org