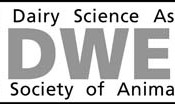 March 16, 2016 – The 2016 Midwest Meeting wraps up today. Watch for more news and award announcements from this year's meeting in upcoming issues of Taking Stock. Be sure to mark your calendar and join us for the 2017 Midwest Meeting, to be held March 13-15, in Omaha, Nebraska!
The awards, scientific sessions, student competitions and events held during the 2016 meeting of the American Society of Animal Science Midwestern Section and the American Dairy Science Association Midwest Branch would not be possible without the generous support of our sponsors!
Special thanks to the 2016 Midwest Meeting Sponsors:
American Society of Animal Science (ASAS)
ASAS Foundation
Zoetis
AB Vista
Catch Des Moines (Greater Des Moines Convention and Visitors Bureau)
Diamond V Mills, Inc.
Kemin Industries
National Pork Board
Adisseo
Agri-King, Inc.
ADM Animal Nutrition
American Registry of Professional Animal Scientists (ARPAS)/
MW ARPAS Chapter
BASF
DSM Nutritional Products Inc.
DPP-NA
Elanco Animal Health
NutriQuest
Puretein Bioscience
DuPont
F. L. Emmert
Iowa State University
JBS United, Inc.
Land O' Lakes Purina Feed, LLC
Zinpro
American Dairy Science Association (ADSA)
AFIA/iFeeder
International Society for A
Outstanding Young Scientist Awards
Extension Award – Land O' Lakes Purina Feed, LLC
Research Award – DSM Nutritional Products, Inc.
Teaching Award – ADSA /ASAS MW Board
Special thanks to the 2016 Midwest Meeting Awards Sponsors:
National Pork Board Swine Innovation (Abstract) Awards
Research – National Pork Board
Education – National Pork Board
BASF
Student Competition Awards
Gretchen Hill Appreciation Club
AFIA/iFeeder
The Tim S. Stahly & Ernie Peo Outstanding Swine Nutrition Midwest Graduate Student Award
The Tim S. Stahly & Ernie Peo Memorial and Tribute Fund
Agri-King
ASAS Foundation
Iowa State University