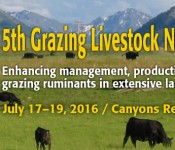 March 21, 2016 – The 5th Grazing Livestock Nutrition Conference (GLNC) is scheduled for July 17-19, 2016, in picturesque Park City, Utah. The meeting will focus on enhancing management, production, and sustainability of grazing ruminants in extensive landscapes. Make your plans to attend now! Some important deadlines for invited proceedings papers, as well as abstract submissions, are quickly approaching.
Invited proceedings papers should be submitted by April 1, 2016. The deadline for abstract submission is April 15, 2016. Click here for author instructions and guidelines for submission of abstracts and invited proceedings.
Register for the conference online!
View conference housing information here.
See the meeting schedule here.