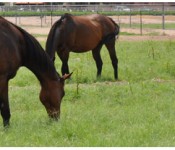 By Holly Webb and Chloe Mitchell, ASAS/ASAP communication interns
March 21, 2016 – An Equine Symposium was held at the 2016 ASAS Midwest Section Meeting on Wednesday, March 16. This year the focus of the symposium was equine welfare, where researchers from several institutions discussed equine welfare in a competitive setting, the human and horse role and perceptions of equine welfare.
Dr. Camie Heleski was the first speaker, and her presentation was entitled, "Equine welfare in a competitive setting… what can 10+ years of research by the Equitation Science community tell us? (And what critical pieces are still missing?)." She summarized results from multiple studies relevant to competition horse welfare. As an example, housing constraints, rein tension use and questionable aesthetic modifications. Dr. Heleski concluded by emphasising the need for a welfare assessment tool for competition horses.
The next speaker was Karen Waite, who presented "Equine welfare in a competitive setting: The human role." Waite focused on the results of her Ph.D. studies at Michigan State University. The first study aimed to quantify instances of aggressive riding in youth equine competitions. The objective of the study was to develop a scale for measuring antisocial behavior in equine competition and verify the psychometric properties of the scale.
The final presenter, Heidi Carroll, presented findings of a study focusing on "Perceptions of equine well-being in South Dakota." The study aimed to understand current perceptions of equine welfare, and the level of care owners give their horses in South Dakota, as well as determining if people from diverse geographic locations within the state share these views.
The symposium was chaired by Dr. Peggy Miller from Iowa State University and was sponsored by Zinpro.