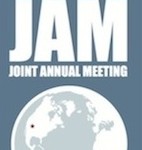 March 21, 2016 – The abstract submissions deadline for the American Society of Animal Science (ASAS), the American Dairy Science Association® (ADSA®), the Western Section of the American Society of Animal Science (WSASAS), and the Canadian Society of Animal Science (CSAS) 2016 Joint Annual Meeting (JAM) is this Wednesday, March 23, at 11:59 p.m. (PST).
Before you submit an abstract, please note the following:
Abstracts submitted for JAM will be accepted or rejected. There will be no revisions after the submission deadline. Because of this, the Quality Standards for Abstracts Statement has been revised.
Authors submitting an abstract for JAM will be charged a $30 technology fee per abstract at submission. This submission fee is being used to cover the cost of electronic posters and virtual meetings.
WSASAS authors submitting an abstract and proceedings manuscript will not be charged the JAM technology fee, but will be charged the $100 page charge for proceeding manuscripts up to 4 pages in length. If a WSASAS proceedings manuscript is over 4 pages, the submitting author will be invoiced an additional $25 per page, due April 27, 2016. Starting with the 2016 meeting, there are no longer forms to fill out, sign and send to ASAS headquarters.  Instead, there is a copyright release box in step two of submission. If you do not check the box saying you agree to these terms, then your abstract will not be considered for publication or presentation.
The deadline for abstract submission is this Wednesday, March 23, 2016, 11:59 pm (PST). More detailed instructions can be found here or downloaded as a PDF.
Any questions should be sent to Samantha Walker at samwa@asas.org.