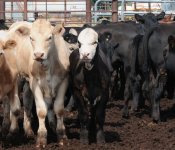 By Chloe Mitchell, ASAS/ASAP communications intern
March 24, 2016 – A Ruminant Nutrition Symposium was held last week at the 2016 Midwest Meeting in Des Moines. Symposium chair Phil Cardoso, of the University of Illinois at Urbana-Champaign, welcomed attendees before introducing the first speaker, Nathan Pyatt.
Pyatt presented "Veterinary Feed Directive (VFD) and its practical considerations for the beef industry." He spoke on the recent changes being implemented by the U.S. Food and Drug Administration regarding the use of medicated feed and water for livestock. Pyatt outlined a number of medically important antibiotics that will require a VFD by January 2017 if they are to be fed to livestock in medicated feed. This means that the antibiotic cannot be used without authorization from a veterinarian with a valid veterinarian-client-patient-relationship (VCPR). Once a VFD is obtained, the antibiotics cannot be used off label or past the stipulated expiration date. The aim of these changes is for the use of drugs medically important to humans to be limited only to uses necessary for assurance of animal health, or responsible therapeutic use that includes veterinary oversight.
The second speaker was Phillip Myer from the University of Tennessee, who presented "Gut Bacterial Communities and their Association with Production Parameters in Beef Cattle." Myer spoke on recent improvements in production parameters in beef cattle, particularly feed efficiency, being attributed to the host genetics, nutrition, and animal management. He highlighted that the bacterial communities of the rumen and lower gastrointestinal tract are just as important for feed efficiency, and presented results from a recent study of the gastrointestinal tract microbial communities of steers, showing that minute changes in the numbers and taxa of microbes caused notable differences in average daily gain and other feed efficiency parameters of the host animal.
Jon Schoonmaker from Purdue University was the final speaker, presenting "Alternatives to Antibiotics." Schoonmaker addressed the recent changes in regulation of the use of antibiotics in animal feed, and the subsequent exploration of alternatives to antibiotic use. These alternatives are evaluated by their function, response, strategy of feeding, and cost-benefit analysis. The presentation covered a wide range of antibiotic alternatives including, but not limited to, ionophores, essential oils, probiotics, and enzymes. Schoonmaker concluded by emphasizing that these alternatives have very specific action, the dosage is dependent on the product and is still a work in progress. They can, however, be very effective if used appropriately.
This symposium was sponsored by DSM Nutritional Products, Inc.