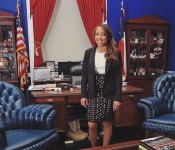 By Jamee P. Bell, ASAS science policy intern
March 28, 2016 – Since my last contribution, I have become much more comfortable in my position as an intern. The time in my office has flown by and before I know it, I will be approaching graduation at Tarleton State University!
As I approach graduation, the question arises, "What are my plans post commencement?" What a loaded question that feels like! While the answer is still unbeknown to me, I am certain that my time on the Hill has prepared me well, thus far, to accomplish my vision of advocating for policies that truly benefit American agriculture.
Meanwhile, I have begun a new, particularly complex, research assignment. While I was certain that this task might only take a week, it has proven to be much more challenging than I had anticipated. Not only am I becoming more knowledgeable about an area of agriculture that I was not very familiar with, I am also learning who and what resources are available to me. By utilizing these resources, I am learning how to interact with professionals at the top of their field and work with them efficiently to produce information or data that will help progress my current findings.
In addition to this research project, I have also attended various briefings and have been given the assignment of focusing on crop insurance. These briefings have enabled me to become more familiar with crop insurance, as well as illustrated just how policy briefings work and their importance. I have been able to meet with the president of an agvocacy government relations firm who is familiar with farm insurance. As a result of our discussions, I have gained even more insight on this issue, which I am sure will be beneficial to my future endeavors.
Through these experiences, I am building a network that I fully intend to maintain and that has the potential to help me answer the burning question of what is to come post-graduation.
In this once-in-a-lifetime opportunity in Washington, D.C., I have also taken advantage of my time off of the clock. I have attended the Conservative Clean Energy Reception, honoring congressional leaders who support clean energy as well as a First Amendment on College Campuses panel at the Religious Freedom Center at the Newseum. Also, I have enjoyed trying new restaurants around town including Cafe Berlin— authentic German cuisine, Cafe Bonaparte— a quintessential European cafe and Founding Farmers— fresh, farm-to-table American cuisine; all which I highly recommend!
Though I feel like a seasoned intern, I still have 4 weeks to learn as much as possible before I make my way back to Texas. I look forward to sharing the rest of my journey with you!