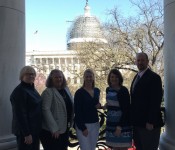 By Deb Hamernik, ASAS Public Policy Committee
March 28, 2016 – Several ASAS members recently participated in a Congressional Visits Day and hosted a Snack & Fact briefing in Washington, D.C.
ASAS members Skip Bartol (Auburn University), Margaret Benson (Washington State University), Deb Hamernik (University of Nebraska), Alex Stelzleni (University of Georgia), and Cassie Welch (Iowa State University) participated in the Congressional Visits Day in Washington, D.C. during National Ag Week. Congressional Visits Day was organized by the American Society of Agronomy, Crop Science Society of America, and Soil Science Society of America. More than 65 undergraduate and graduate students, academic scientists, and certified crop advisors participated in these events.
On Monday, March 14, participants heard an update on funding opportunities from Sonny Ramaswamy (Director, USDA NIFA) and Sally Rockey (Executive Director, Foundation for Food and Agriculture Research).
Participants also discussed the President's fiscal year 2017 budget request for the USDA NIFA, which includes a request for full funding (e.g., $700 million) for the Agriculture and Food Research Initiative (AFRI) competitive grants program. Although AFRI is authorized for $700 million, AFRI has only received $350 million in annual appropriations, and that was in fiscal year 2016. The bulk of the President's requested increase for AFRI would come from mandatory funds. Mandatory spending requires new legislation to implement, and it must be deficit-neutral. This means the increase in funding must be paid for through either revenue increases or spending cuts. The request for increased AFRI funding comes at a time when Congress is faced with the prospect of soaring budget deficits. Funding the mandatory portion of the AFRI increase could require Congress to cut other popular programs like crop insurance, food stamps or even other research programs, which is extremely unlikely and not what we want.
On Tuesday, March 15, participants formed teams organized by state and visited their Congressional delegation on Capitol Hill. The goal of these visits was to ask Senators and Representatives to support full funding of AFRI to the authorized amount of $700 million—the amount that was authorized for AFRI in the 2008 Farm Bill. We did not have a position on the use of mandatory funding as was requested in the President's budget. If our "ask" was met with resistance from Congress, we then asked for their support for another 8% increase in AFRI, which is what Congress appropriated in fiscal year 2016. This request would bring AFRI to $375 million in fiscal year 2017.
On Wednesday, March 16, ASAS members provided an overview of the October 2015 issue of Animal Frontiers, which focused on Land Use Challenges for Animal Agriculture. Doug Tolleson (University of Arizona) discussed the global effects of changing land use on animal agriculture. According to Doug, "Global changes in land use present multiple challenges to animal and rangeland scientists. The need to mitigate negative impacts, enhance positive impacts, and discover new innovative contributions to society from animals is at a critical juncture. Proper science-based land and livestock management will continue to mitigate negative environmental effects of livestock production, and provide positive effects, while producing needed goods and services."
It is important for animal scientists to communicate and build relationships with their elected officials so that Congress understands the challenges and opportunities associated with production of animal-sourced foods. The Snack and Fact events are an excellent opportunity for animal scientists to provide a brief overview of a current issue associated with animal agriculture, and to answer questions from Congressional staffers. Most of the Congressional staff are under 25 years of age, and many are unfamiliar with agriculture, farming and ranching. Still, they want to understand modern management systems that provide animal-sourced foods for the nation's population. Animal scientists are viewed as a credible and trusted source of science-based information and we should take every opportunity to have these conversations with our elected officials. If animal scientists don't communicate with Congress, it is likely that they will turn to other sources (e.g., the Internet or social media) that may not provide accurate, science-based information on controversial issues associated with the production of animal-sourced proteins.
About the photo (left to right): Margaret Benson (Washington State University), Deb Hamernik (University of Nebraska), Julie McClure (Science Policy Manager, Agronomy, Crop, & Soil Science Societies), Cassie Welch (Iowa State University), Alex Stelzleni (University of Georgia) outside the House conference room, with the U.S. Capitol in the background.