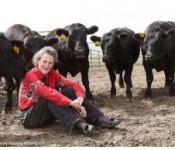 March 31, 2016 – A Foundation Appreciation Club was formed last year to honor Dr. Temple Grandin. Recently, Dr. Grandin received a new honor: She will be featured on collectible trading cards by the U.S. Patent & Trademark Office (USPTO). According to an article in the The Denver Post, the USPTO created the inventors trading card series in 2012 to spur interest in inventing among children.
Dr. Grandin is being honored for her invention of a pre-slaughter animal stunning system, which is patented.
Learn more about the ASAS Temple Grandin Appreciation Club here.