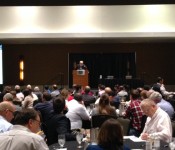 March 31, 2016 – The ASAS Foundation is a Platinum Level Sponsor of the 2016 Midwest Meeting, held earlier this month in Des Moines. Many symposia at the meeting are sponsored by Foundation Appreciation Clubs.
Here are just some of the impactful symposia supported by the Foundation:
About the photo: A great turnout at the Bentley Lecture and Lunch during the 2016 Midwest Meeting.