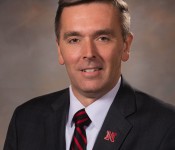 April 7, 2016 – Dr. Ronnie Green, an ASAS past president and Fellow, will serve as the next chancellor of the University of Nebraska-Lincoln.
Dr. Green is currently NU's vice president for agriculture and natural resources, Harlan Vice Chancellor of the UNL Institute of Agriculture and Natural Resources, and UNL interim senior vice chancellor for academic affairs.
Green's appointment is subject to approval by the Board of Regents at its May 25 meeting. If confirmed on that date, he would begin his new role immediately.
For more information, please see this article at the UNL Newsroom.